Trader Joe's has been around for over 50 years, with its first location opening in Pasadena, Calif., in 1967. Since then, it has grown into a nationwide grocery chain with over 500 locations in the United States, according to Scrapehero.
Despite having just as many locations as other major chains like Whole Foods, Trader Joe's has accomplished the unique feat of maintaining a small, hometown-esque brand that sells almost exclusively private-label products.
From fan-favorite frozen foods to affordable price points, Trader Joe's comes out ahead of its competition in a number of different metrics. The grocery store releases new items on a regular basis, which keeps its loyal customers returning week after week rather than seeking their groceries anywhere else.
But loyal Trader Joe's shoppers will happily admit their allegiance, leaving many who perhaps are not "in the know" wondering just what it is about the grocery chain that has its fans in an almost trance. We are pretty sure it's not what is in the food—though many customers will probably claim it's the butternut squash macaroni and cheese.
There are several things that Trader Joe's does better than its competitors, according to its fans. Today we are breaking down those reasons to figure out once and for all what makes TJ's so special.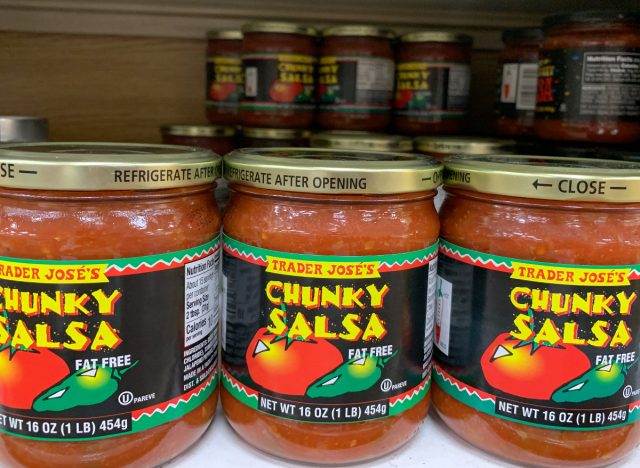 Ask any fan why they prefer Trader Joe's over any other grocery store, and many will likely point out the chain's private-label items. The grocery store sells nearly exclusively products that are branded under the Trader Joe's name, which is partly a money-saving maneuver and partly a marketing strategy. Whatever the reasons, it's working. Customers still rave about Trader Joe's branded goods. In fact, some Redditors can't stop guessing about the secret identities of the real manufacturers behind many of these popular products.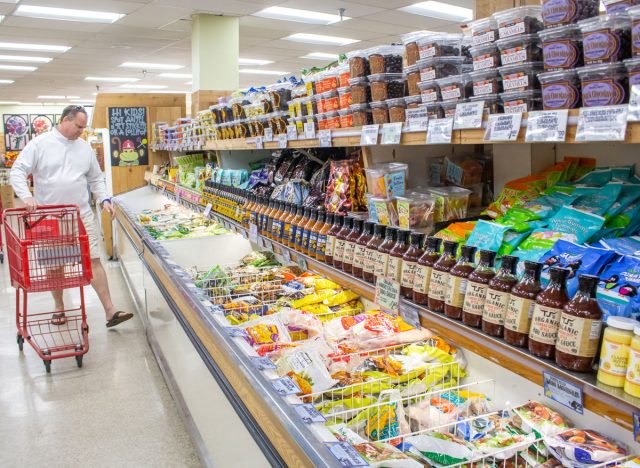 Checking out the frozen food aisle at any grocery store is a surefire way to find full meals that can be prepared and ready to eat within a matter of minutes. But at Trader Joe's, it goes beyond simple meal ideas. The frozen foods section is filled with fan-favorite items that can fly off shelves. One Redditor claims that the frozen pizza formaggio "is probably the best frozen pizza I've ever had." Another Redditor compares the Cod Provençale to "someone's delicious homemade dinner leftover." Savory meals aside, fans also love the frozen desserts as well, listing a plethora of top picks on Reddit. The frozen food from Trader Joe's just hits differently.
With the rising cost of food, shoppers are extra cautious when it comes to their grocery budget. Luckily, regulars at Trader Joe's feel as though their wallets are not squeezed as tightly as it may be at other grocery chains. As one Redditor explains, Trader Joe's has "no middleman," dealing directly with suppliers instead. This means that you can buy more food for less, as another Redditor who lives in New York City explains: "It's really not an exaggeration to say I can pretty much get twice the amount of food for the same price at TJs."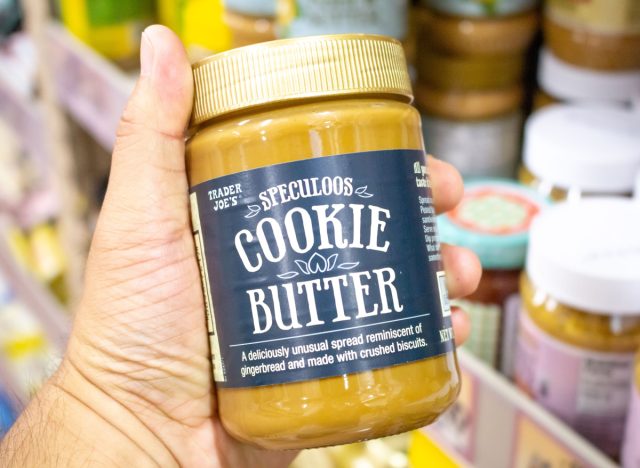 Shoppers will find most of their weekly must-have groceries at Trader Joe's, including a wide array of produce, pantry items, and prepared foods. But in addition to your regular restock of bananas, milk, and eggs, the grocery chain also carries many unique items that you just don't find anywhere else. As one Redditor describes it, "Trader Joe's sells novelty and niche items," which another Reddit thread goes on to list some of the top unique choices among fans. One Redditor mentioned stand-out items like the "Chicken Shawarma marinated chicken thighs," while another pointed out to one-of-a-kind seasonings like the South African Smoke Seasoning Blend.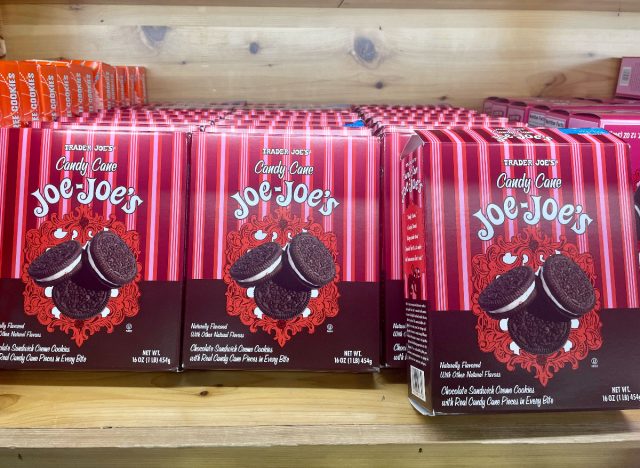 If you want to see the eyes of a Trader Joe's fan light up with excitement, ask them what their favorite seasonal items are, or to name their favorite holiday to shop for. Throughout the year, Trader Joe's rotates in and out limited-time items unique to that season. Red and pink boxes filled with sweets are plentiful in the month of February, and savory meal ideas are abundant during the holiday season. There are entire megathreads on Reddit devoted to spotting the latest holiday finds, with fans looking forward to the return of their favorites as well as discovering new items. It makes shopping at Trader Joe's fun and interesting all year round.
If you live in a state that allows it, your local Trader Joe's may also include a vast selection of wine and beer. In particular, regular shoppers at Trader Joe's are quick to praise the grocery chain for the value added from its wine selection. And, like many of Trader Joe's food items, the wine is often cheaper than what you'll find elsewhere, as one Redditor points out. Some wines are national and international brands, while others are exclusive to TJ's, like the famous "Two-Buck Chuck."6254a4d1642c605c54bf1cab17d50f1e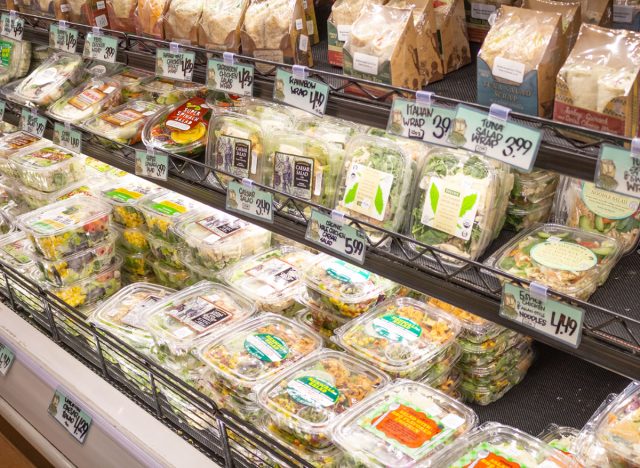 Need a solid meal idea that only requires you to pick up a few items from the grocery store? Look no further than your local Trader Joe's. It offers quite a few prepared foods from not only its frozen food aisle, but from the refrigerated section as well. When prompted to share their top recommendations on Reddit, Trader Joe's shoppers do not hesitate to list a number of go-to prepared foods that go from grocery bag to your plate in minutes, including "chicken breast medallions in coconut curry sauce," and "excellent" sriracha tofu, and the vegan taco salad kit, described as "amazing and has a ton of protein."
Any grocery store can sell top-quality products, but what can really make or break a grocery shopping experience is the staff. If you take note of employees' attitudes, it is likely on either extreme end of the spectrum, and at Trader Joe's, the general consensus seems to be that the staff truly makes the store shine. One Redditor simply asks, "Why are you people so gosh darn happy all the time?" It truly makes a difference in the shopping experience, as another Redditor notes that they "love hearing that you value relationships with your fellow crew members," and "customers pick up on that."
For all these reasons, Trader Joe's offers a different kind of grocery shopping experience that is hard to replicate at most other major chains. The nationwide brand achieves something unique with its a hometown-market vibe. "Reminds me of the privately owned neighborhood grocery stores that we used to have," wrote one Redditor. From smaller store layouts to hand-written signs—some with clever designs and illustrations, as one Redditor shares—it does not feel like you are shopping at any other large store. It truly feels like a neighborhood market.