If there's one simple change you can make to enrich your health and your community, it's shopping local. Seeking out produce and goods that come from small businesses, growers, and ranchers in your area has advantages for the individual consumer and the collective planet. And it's been trending—a 2021 survey by Intuit found that 70% of Americans actively supported small businesses.
When it comes to groceries, local food is often fresher. Fruits and vegetables can be riper, more flavorful, and more nutritious, according to Healthline. Other goods like jams and pickles can be sold with fewer preservatives, since they're being delivered right into customers' hands. These options can also be more accessible, especially amid transport delays and labor shortages.
The environmental benefits of smaller farms are another reason why buying local should be on your list. Individual growers typically have a reduced carbon footprint, use less plastic and packaging, and practice sustainable growing methods, unlike industrial farms (which come with a smaller upfront price but a much bigger cost to the planet.) 
Farmers markets around town are a great place to pick out seasonal produce, baked goods, and other local finds. But you can't always get to an outdoor market every time you need to make a grocery run. Luckily, these nine grocery chains have you covered, with a large selection of homegrown fruits and vegetables, local products, and farm-to-table staples that support their shoppers, communities, and ecosystems.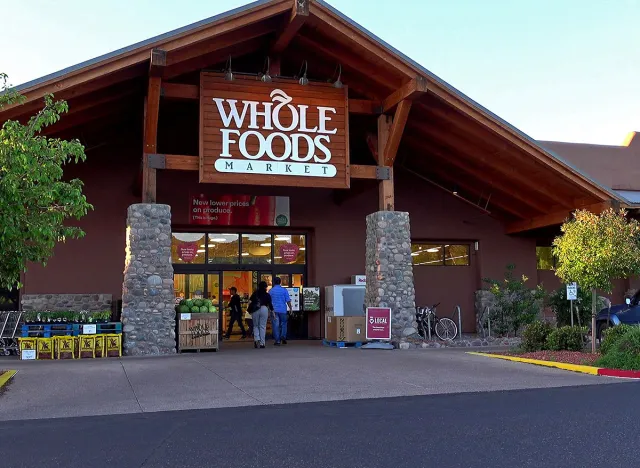 Not only has this nationwide health food giant pulled 60,000 local products onto its shelves, the retailer also plays a large role in local businesses' success. Whole Foods founded its Local Producer Loan Program in 2006, an initiative that "lends money to small-scale, local or emerging producers across the U.S. and Canada to help them grow their businesses."
More recently, in February 2022, the company launched the Local and Emerging Accelerator Program (LEAP) to help local suppliers gain market expertise and a spot in regional Whole Foods stores, according to a press release.
The sizable investment in acquiring diverse and local suppliers and products may help bridge some of the supply chain gaps and gain customers' interest, a strategy that many grocery chains are pursuing, according to Grocery Dive.
Whole Foods is well-known and trusted for its rigorous ingredient and sourcing standards, so while it may cost more for the products marked with the red "We heart local" tag, you can count on the quality to measure up.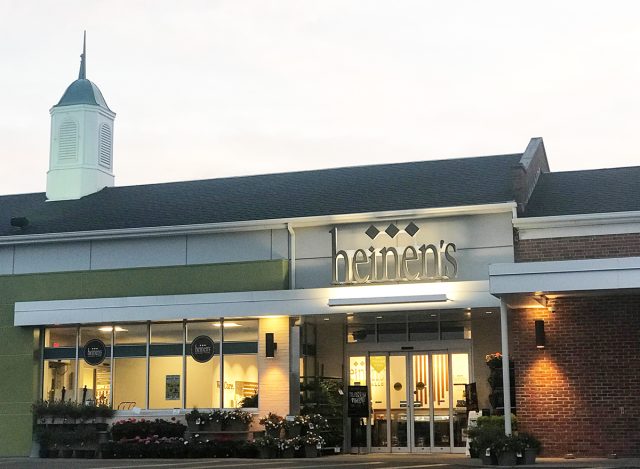 This family-owned grocery store is fairly local itself, with 23 stores across Illinois and Ohio. Maybe that's why the chain has sourced from small farmers since the beginning. Heinen's takes pride in having a personal approach with its suppliers, and it seems to have paid off. The Midwestern grocer was named one of the top three on a 2019 Consumer Reports survey for the "Grocery Stores with the Best Fresh Produce."
"Our produce buyers are experts at finding the finest produce locally, regionally and from around the world by forming one-on-one relationships with farmers and growers," according to the store website. "Today, we carry more than 400 varieties of fruits and vegetables, 150 of which are fresh, USDA certified organic."
If you can pay a visit to one of these locations, you're bound to find variety and quality. The chain even carries some unique seasonal produce. This month's "fresh discovery": an intriguing hybrid citrus, the Neapolitan tangerine.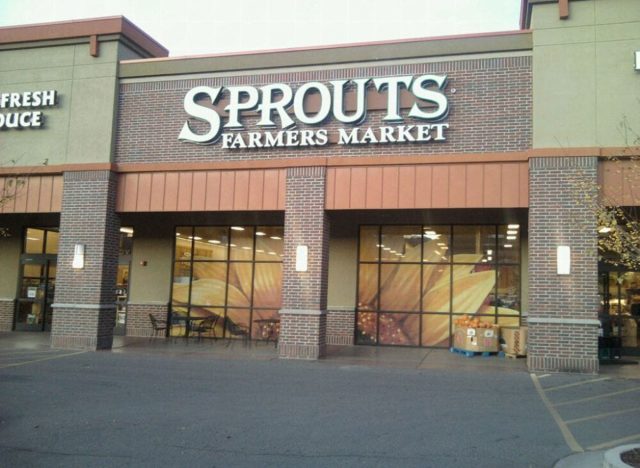 Finding delicious, natural, and organic produce isn't hard at the place "where goodness grows." The health food chain partners with local farmers all across its 370 locations nationwide, all held to the same high quality standards for produce, meat, fish, and other products. You can even peruse the list of suppliers in your state and learn exactly where your fruits and veggies are coming from.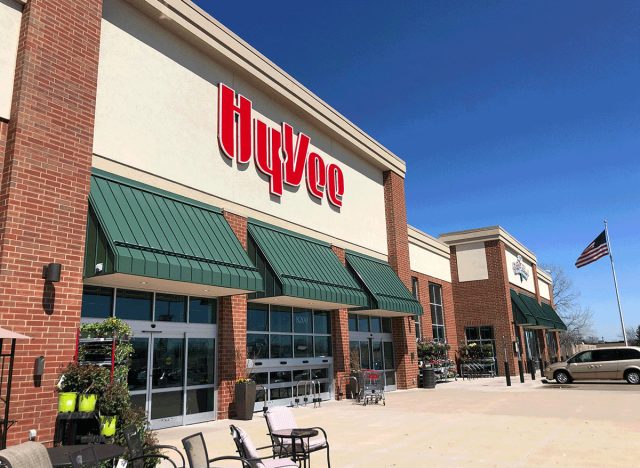 This cult favorite has grown to nearly 300 stores across eight Midwestern states, but it has preserved its neighborhood feel. One way the brand stays grounded? Supplying products from local farmers and producers through the region. These foods are easy to pick out of the crowd, marked with the "Homegrown" logo, which means they were sourced with a 200-mile radius. There's a handy interactive map on the Hy-Vee website that you can click through to see where each store's fresh produce is grown, from sweet corn to greenhouse tomatoes.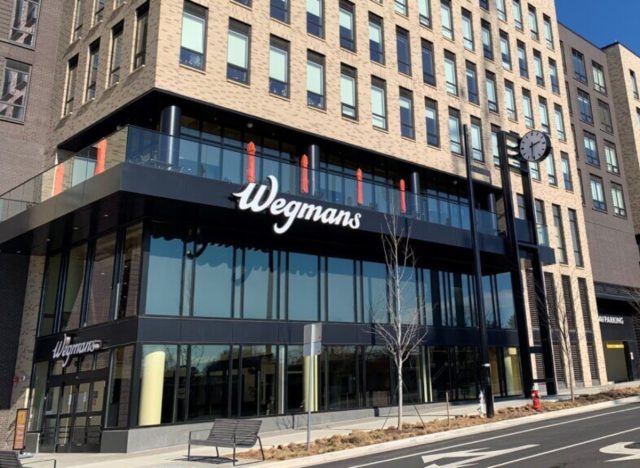 There are reasons to love this East Coast chain besides outstanding customer experience and competitive prices. "You don't realize how good their produce section is until you have to shop at other grocery stores," one shopper told Business Insider.
Wegmans took second place on the Consumer Reports survey for produce variety and quality, and it likely has something to do with how well the family-owned company knows farming. The Wegmans Organic Farm & Orchard began growing organic fruits and vegetables for its stores in 2007 and has extended its network by partnering with 400 close-range family farms.
The retailer is working to innovate organic growing, testing new plants on its own farm to see which ones would be best suited for its own customers. "In 2022 we are trialing 10 new cherry tomato varieties," according to the company. "The goal is to take the successful crops to our organic partners and have them grow these varieties exclusively for Wegmans."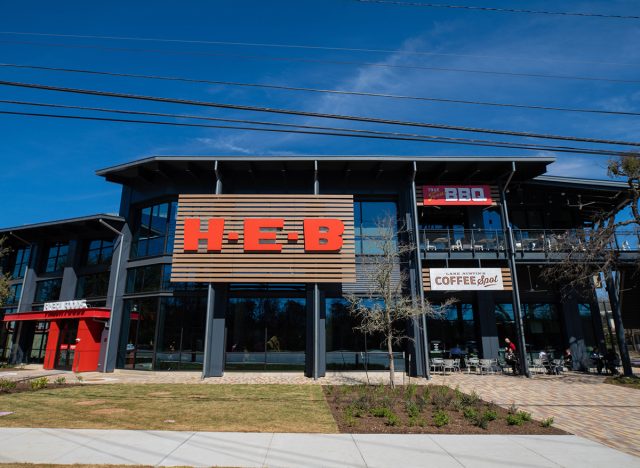 After opening its doors in 1905, the San Antonio-based grocery chain now has 340 stores all over Texas and New Mexico, but it stays true to its origins. From sweet potatoes to corn tortillas, the company carries 3,700 products with a "Go Texan" stamp to proudly display that they're Texas-made, according to the H-E-B website. Customers can also find chicken and beef from local farms and ranches, along with plenty of homegrown produce.
The USDA featured H-E-B's partnerships with local farmers in 2017 as a way for other grocers to increase their produce sales and foster relationships between consumers and the growers who provide for them. "We too believe that consumers should have a better idea of where their food is grown (hint: it's not the grocery store) and how it gets to their plate, all the while keeping farmers and ranchers in business and contributing to rural community development," one USDA official wrote.
It's not just Pub Subs that fans are raving about. You can pick up a wide selection of local produce and other offerings at this Southern food retailer. Publix gets some of its produce, seafood, and meat from nearby farms and ranches in each state, marking items with a state-specific tag so customers know exactly how it got to them—anything from squash and potatoes to flounder and shrimp.
From the humble beginnings of a "one-horse produce cart," Maine-based Hannaford is the neighborhood supermarket for the Northeast, with over 180 stores. As its customer base has grown, so has the company's impact. The grocer participates in a number of mission-driven initiatives, including sourcing sustainable seafood, eliminating food waste, and partnering with local producers.
Browse the "Farm Stand", where you can figure out which seasonal fruits and vegetables you want to pick up in-store, read about the store's relationships with local farmers at your nearest Hannaford, and filter results by state to see which of your grocery items can be fulfilled by a supplier in your region. Hannaford worked with 800 local companies and carried over 6,000 products in 2017, one of its buyers, Chelsea Wagner, told UVM Food Feed.6254a4d1642c605c54bf1cab17d50f1e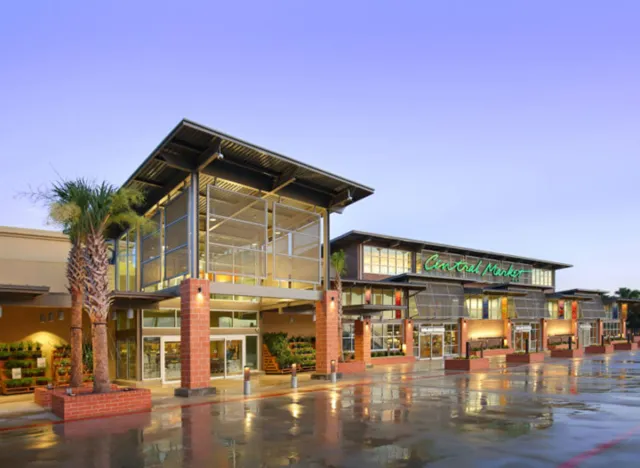 The top spot on the Consumer Reports member survey was swiped by Central Market. With only ten stores in the Lone Star State, there's a lot of heart packed into the H-E-B-owned gourmet grocer. Between cooking classes and live music nights on the patio for the community, Central Market integrates Texas-produced goods throughout the shopping experience. It hosted the Texas Farmers Market Special Showcase in 2020 to gather local vendors and feature their wares in several of the food retailer's locations.
The upscale food joint takes extra care to find up-and-coming—or even brand-new—Texas products, inviting interested companies to apply for a spot on the floor. Ever heard of Hoja Santa Goat Cheese, Pixie Tangerines, or Ataulfo Mango? When food lovers can't find this much variety in meats, cheeses, produce, and seafood anywhere else, they can buy it here. 
"We are passionate about sourcing great tasting food and partnering with suppliers on launching innovative and unique food brands. We want to learn about your story and products," the site offers potential suppliers. "We are most interested [in] new products with no distribution in Texas—and especially products made in Texas."