Mikayla Standridge reported missing in Washington' Washington's Skagit County Sheriff's Office is looking for 25-year-old Mikayla Standridge.
The 25-year-old mother has been missing since April 21. Family confirmed she tried calling 911 for help around 5 a.m. — but when she got through to dispatch, her phone died.
"It's just been a horrible nightmare our family has gone through," Angela Anderson, Standridge's aunt, said in an interview with local news station KIRO7.
READ: Candace Scott indicted in Jeremy Pauley human remains case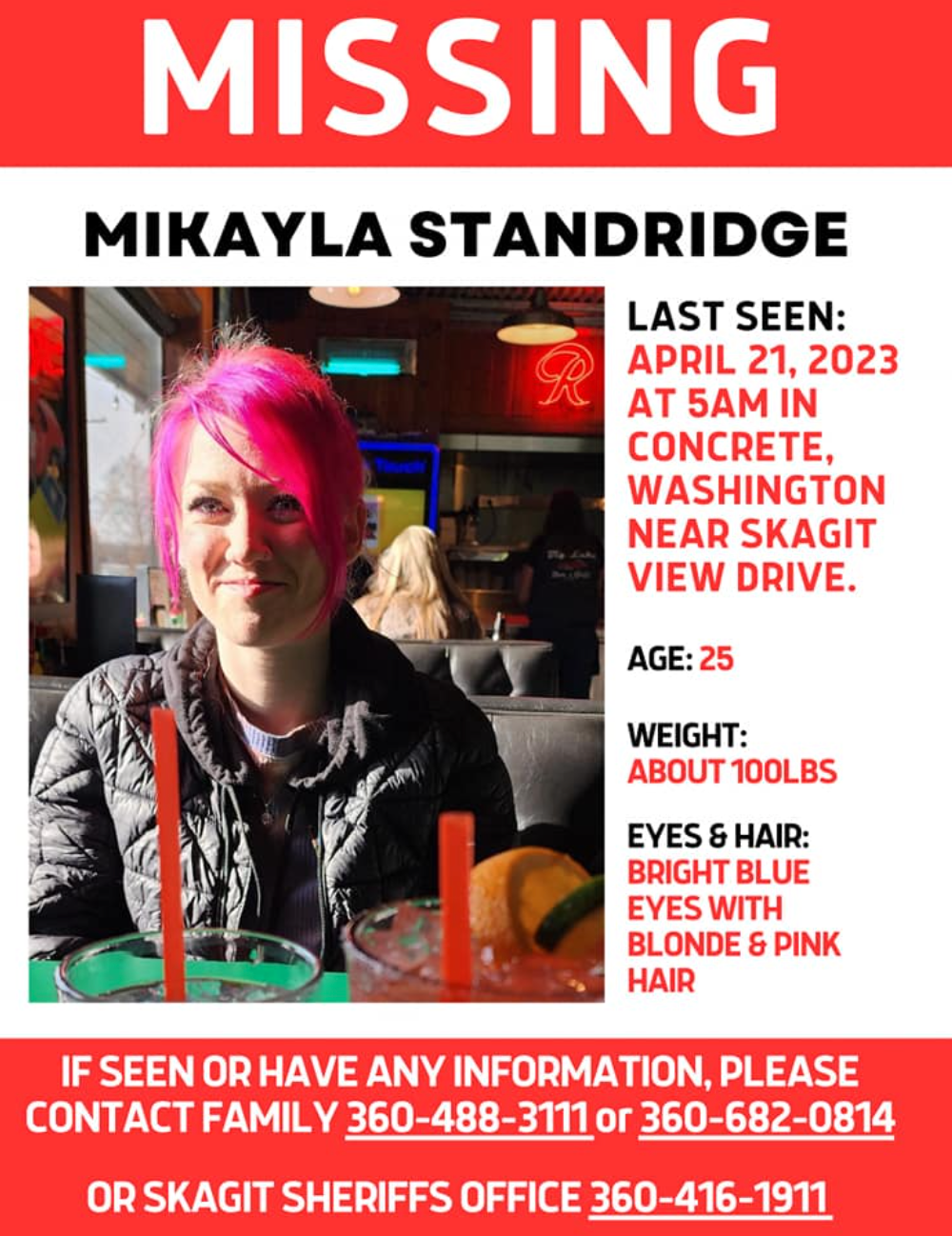 Mikayla Standridge reported missing in Washington
Search crews have been deployed looking for for the young mom for more than a week. She was last seen on Skagit View Drive, which is right near a small park and the Skagit River.
Detectives with the sheriff's office have been searching the river — walking along the banks, cruising the water on boats and searching from the sky using drones and a helicopter.
"She always wants to laugh," Mardi Martone, another one of Standridge's aunts, said to reporters with Cascadia Daily News. "Always wants to help people. She'll call you out of the blue just to say hi." Her family confirmed she has a 2-year-old son named Madden.
ALSO READ: Little Hero Dillon Reeves! steers bus to safety after driver falls unconscious
A few days before Standridge vanished, she made a cryptic post on Facebook that has many scratching their heads. According to her aunt, Standridge wrote, "If I ever go missing or anything just know I didn't leave." The post was published on April 16.
In her own Facebook post, Martone claims Standridge allegedly was spotted running out of a house she had been staying at on Skagit View Drive screaming "help" — moments later a man in the house heard a car drive off.
The sheriff's office has not released any additional information besides that she's missing and that they've been searching for her.