Inside 'A Woman, Susan Orendorf, 44, Arrested And Accused Of Abusing Her 11-Year-Old Son In Camillus' Ten months ago, a New York boy told investigators that his mother was abusing him, according to a daycare director who heard the interview between the child and investigators. Until this month, however, he was still in the mother's care.
A Woman, Susan Orendorf, 44, Arrested And Accused Of Abusing Her 11-Year-Old Son In Camillus
According to Syracuse.com, 44-year-old Susan Orendorf was arrested last Tuesday, 10 months after daycare director Karen Sweeney was reportedly assured by child abuse investigators that the victim would be removed from Ordendorf's care.
Sgt. Jon Seeber, a spokesman for the Onondaga County Sheriff's Office, said Orenddorf is charged with tying the child to a bed, withholding food from him, and strangling him. According to a criminal complaint brought before the Camillus Town Court, the abuse persisted for five years.
The director of Camillus' Partners in Parenting Child Care Center, Sweeney, said on Friday, "I don't understand." "I watched the interview, and he described to this woman in great detail how he had been mistreated, giving her very precise facts."
"Anyone who works with children and generally cares about him would know this boy is in trouble."
CNY Central reports that court documents claim that from 2017 until September 2022, Orendorf consistently withheld food from the child. In September 2022, the victim was hospitalized weighing 57 pounds.
When the victim started attending her daycare at age 10, Sweeney claimed she could "clearly see something was wrong." According to reports, Orendorf issued detailed instructions on when and how to feed the infant, stating that he needed to be limited in his intake of both food and liquids.
The victim frequently showed up to the daycare with cuts and bruises on his body. Orendorf allegedly claimed that her son was playing when he fell, but the victim, who grew close to Sweeney, started talking to her and revealed what was actually going on in his home.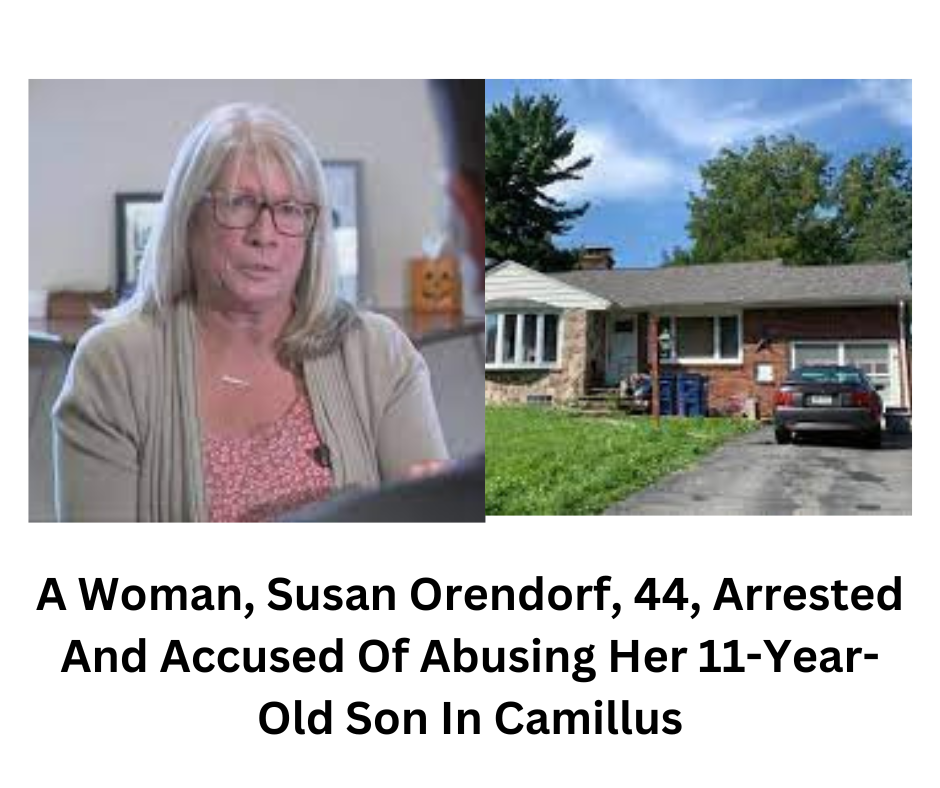 From there, Sweeney contacted CPS for help and learned that numerous other adults in the area had been reporting the alleged abuse to CPS for years. Sweeney added that Orendorf had two biological children that were well taken care of. The 11-year-old is her adopted son.
Lauren Thornton, a waitress at Tully's restaurant, told CNY Central that she became familiar with the Orendorf family, as they were regulars at the restaurant.
READ MORE: KC Police: Social Media Rumor About A Serial Killer In Kansas City Is Untrue, Police Say
"He looked scared, he looked sad," Thornton recalled. "There was no connection towards him from the mother. She was always yelling at him, always had this disgusted look on her face. You could tell there was no love there, at all."
In 2021, Sweeny accompanied that child as he gave specific details of the abuse to investigators.
"There's no way a child can describe what he described to her and go home with that mom. That's exactly what happened," Sweeney said. "I had promised this child, this time it's gonna work. And it didn't, because after that I… she took him out of the program."
Some of the details of abuse included pulling on the child's genitals as punishment for wetting himself, court documents indicate. When she tied him to his bed, Orendorf reportedly left the child there overnight with nothing on but a diaper.
According to Seeber, the sheriff's office got engaged in the matter this month, but he was unaware of CPS's involvement until the sheriff's office started looking into it. According to Seeber, detectives are already searching the CPS database for information.
Seeber continued, "We always advise the public to dial 911 if they feel child abuse is taking place.
Since then, the victim has been taken out of Orendorf's custody. She is currently being tried on two counts of harming the welfare of a child and one count of unlawful confinement.
Check back for updates.
For More, Click: Death Update: Debbie Collier: Missing Georgia Mom Found Burned & Killed Was Spotted At Store Buying Tarp, Lighter Before Her Death