The instance 'Azuree Charles, 9, Murdered By Parents, Jean Charles, 40, & Luella Elien In Pennsylvania' The boy who was found murdered in May was charged on Wednesday in connection with his death.
Azuree Charles, 9, Murdered By Parents, Jean Charles, 40, & Luella Elien In Pennsylvania
Jean Charles, 40, allegedly strangled his son, Azuree Charles, dragged his body over an embankment, and tried to hide it under a lawn chair and cooler behind a neighbor's shed in New Kensington. A shovel was also used during the ordeal, according to the Tribune Live.
In spite of Jean Elien abusing their son between November and May 1, mother Luella Elien was charged with allowing him access to the child. She also permitted him to remain at her residence despite the fact that he was wanted for arrest for hitting their son in the eye in November.
Azuree Charles, 9, Murdered By Parents, Jean Charles, 40, & Luella Elien In Pennsylvania
After Azuree's body was discovered, Jean was detained in connection with the case the following day.
According to WPXI, Azuree was found partially buried with his pajamas hanging from a nearby tree branch. A shovel and the slain boy's bike, which were found also near his body, reportedly had his DNA on them.
Read Also: Crime: Monica Pennington, 49, Found Not Guilty By Reason Of Insanity For Shooting And Killing Her Sister
Court papers stated that a young neighbor heard Azuree scream, "No, no, no, I'm sorry," before a resident discovered his body.
Shortly before his murder, Azuree had a tracheostomy tube removed which helped him to eat and talk. Reports also indicated that he was a cancer survivor.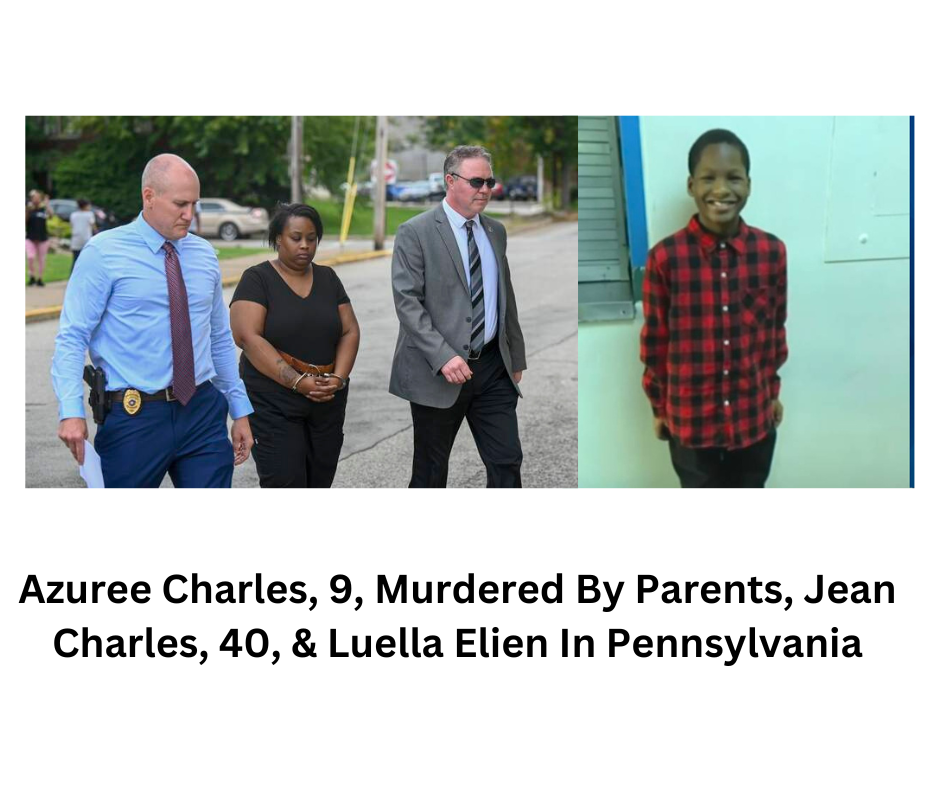 Jean is charged with first-degree murder, criminal homicide, abuse of a corpse, unlawful restraint of a minor by a parent, strangulation, concealing the death of a child, and tampering with physical evidence.
Elien was charged with being an accomplice to the aggravated assault of a child, child endangerment, and hindering the apprehension or prosecution of another person.
Both are scheduled for preliminary hearings on Oct. 12 before Pallone.
"This horrific tragedy has rocked the New Kensington community. It has rocked our office, the New Kensington Police Department, and our county as a whole. The trauma that has affected us all, however, pales in comparison to what Azuree no doubt experienced," Ziccarelli said during a news conference Wednesday at the courthouse. "Please know that the two defendants are in custody and will be prosecuted to the fullest extent of the law."
There was relief in Azuree's neighborhood in East Ken Manor.
"I'm glad they got it solved," said Osie Taylor Jr., 70, who helped police find Azuree's body. "He was the nicest kid around. Something like this shouldn't have happened to him at all."
Azuree's body was found near Taylor's shed. He lives with the memory.
"It still bothers me when I go in the backyard," Taylor said.
Azuree's smile was what the Olbeter family was remembering of him Wednesday.
"Your heart will melt by seeing that smile," said Bill Olbeter, who said Azuree called him "Mr. Bill."
His daughter, Aleese Olbeter, 15, learned about the arrests from her parents as she was coming home from school. She tried not to cry on the bus.
"I felt happy. He finally got some justice," she said. "For your own parent to do that to a child, it's heartbreaking."
For more stories, click: Crime: Robert J. Tarr, 59, Accused Of Murdering Ex While She Was on a Date, He Later Hired A Hitman To Kill Surviving Witness And Investigator