Exploring 'Father Arrested After An Infant Abandoned In Shed In Livington' A Texas father has been charged with abandoning or endangering a child after he left a baby girl in a shed belonging to a Polk County family.
Father Arrested After An Infant Abandoned In Shed In Livington
John and Katharine McClain were awakened at about 3 a.m. Saturday morning by the sound of a neighbor's truck driving away. When they checked their security camera, they saw a mostly naked man checking several vehicle doors before jumping in the neighbor's truck and driving off.
"We called the neighbors and they reported it stolen," John McClain said.
But the story wasn't over. A few hours later, their dog, Archie, was barking at something inside the shed in the backyard. John went to investigate, then suddenly called out to his wife.
"He said, 'Call 911, there's a baby,'" said Katherine, who told KHOU that she initially thought it must be a baby snake or some other kind of animal. John quickly dispelled that thought.
READ MORE: Cannibal Mark Latunski, 52, Pleads Guilty To Murder, Mutilation of Michigan College Student He Met on Dating App
"He said, 'Call 911 quickly,'" Katharine said. "'There's an infant in here.'"
When a dispatcher told her it was fine to pick the little girl up, she brought her to the house and waited for an ambulance. Emergency medical workers checked her out at the scene before taking her to a hospital in Houston. Doctors diagnosed the 9-month-old with a broken leg and said she would recover from her injury, KPRC said.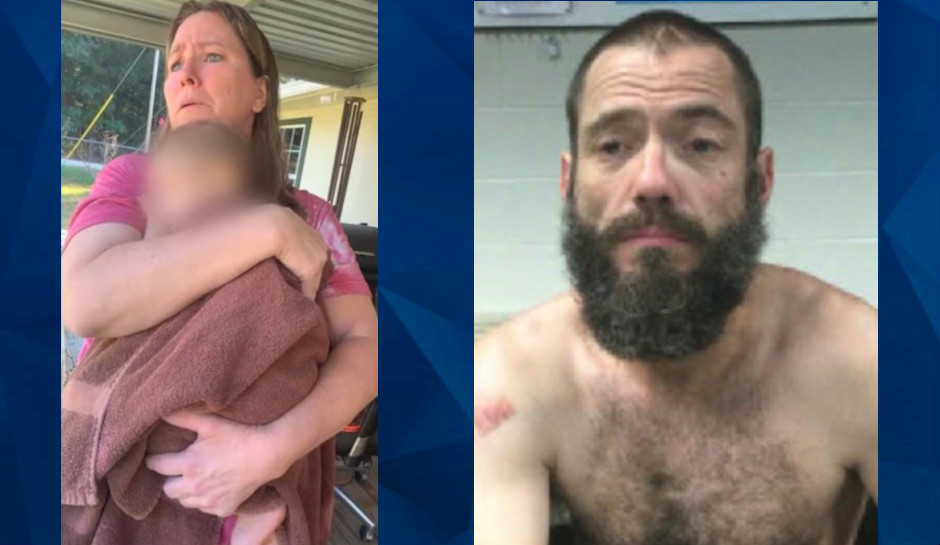 "I'm a mom," Katharine told KHOU. "I was pretty frantic and just shocked. It's still kind of got me a little bit."
Authorities said they later found the stolen truck with the little girl's father still behind the wheel. His own vehicle was found abandoned near railroad tracks that run behind McClain's property.
The McClains said they looked further back on their surveillance video and saw the suspect holding the infant before going into the shed. He spent hours inside before leaving and driving off in the truck.
Polk County jail records identify the suspect as Clifford Jason Guynes and say he is being held on a $200,000 bond.
For More, Click: North Las Vegas Police Officer Shot A Man Dead During Apparent Home Break-In Westmere Avenue