The 'Moment Arkansas Dad Amputates His Own Leg In Front Of 5-Year-Old Daughter, Claiming To Be Jesus, And Satan' A couple from Arkansas was detained last week on suspicion of harming the welfare of a child after the wife ran away from the home out of fear for her husband, who then amputated his own leg in front of their kid.
Moment Arkansas Dad Amputates His Own Leg In Front Of 5-Year-Old Daughter Claiming To Be Jesus And Satan
The incident took place on August 2, according to a probable cause affidavit reported by KTLO. A Boone County deputy arrived on the scene to find Shannon Cox, 48, naked and lying in front of his home with a portion of his leg missing. Cox was taken to Cox Medical Center South in Springfield by air ambulance while a sheriff's office investigator studied the scene.
A chop saw with blood on the blade and more blood spatter on the wall were found after he followed the blood splatter on the floor. KARK reported that the severed arm was on the saw. The investigator noticed a car outside the house with the hood up. A rear passenger window was cracked, there was a 20-pound propane cylinder on the battery, and there were ashes inside the car.
Cox's 5-year-old daughter was on the scene when deputies arrived; she had seen her father use the chop saw to amputate his leg. The girl's mother, Sandy Cox, wasn't there, but detectives eventually got in touch with her and invited her in for an interview.
When she did, she told detectives that her husband had been exhibiting odd behavior for the entire day, according to the affidavit. He told her he was Jesus Christ, she said, and said she "needed to get right with the lord." Later, his behavior turned more violent, and he reportedly said he was Satan and threatened to "twist her head off."
Read More: Kentucky Court Suspends Ronnie Goldy For Alleged Sexual Favors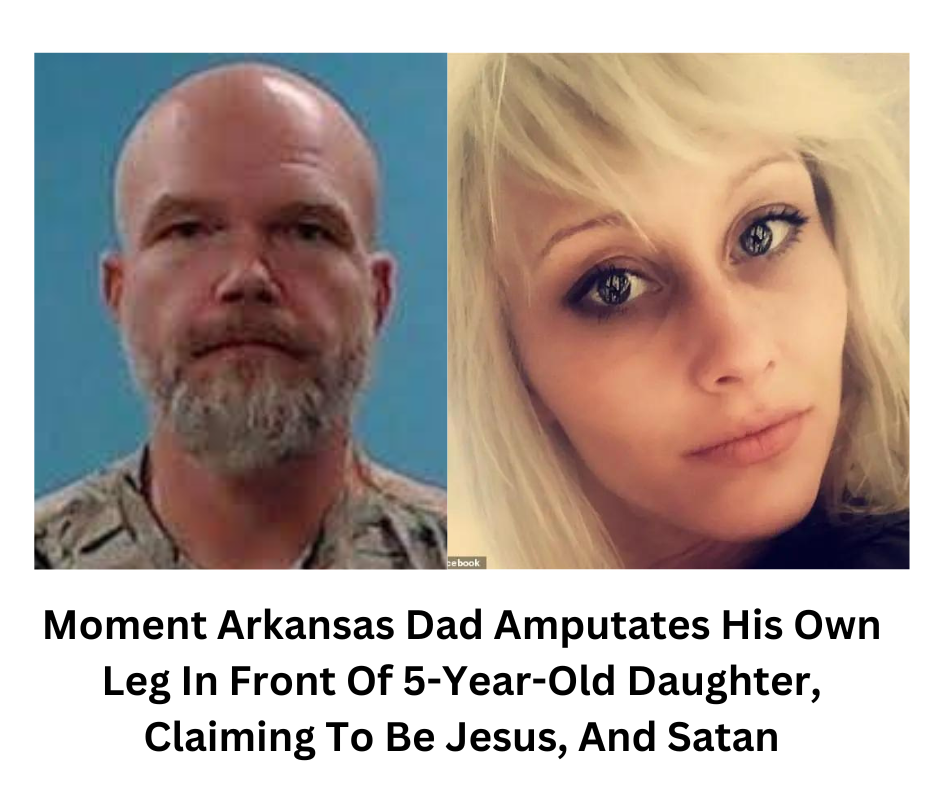 At that point she fled to a friend's home, telling the detectives she feared her husband would kill her. The detectives asked why she left her daughter behind, and she told them she was more concerned about what her husband would do to her than what he would do to their daughter.
The Coxes were released on $10,000 bonds each. KARK said the judge ordered Shannon Cox to have no contact with his wife or daughter. Both are due back in court in October.
For More, Click Here: Us Police Arrested Woman Accused Of Stabbing Roommates
Shannon Cox, 48, became enthused about being both Jesus Christ and Satan and sawed off his own leg in front of his five-year-old daughter.
He was acting "strangely," according to his wife Sandy, before being increasingly hostile and threatening to "turn her head off."
Their small daughter was left behind as she fled the house in fear for her life because she "wasn't worried" about her.
Shannon was discovered by police in front of the house, naked, with a portion of his leg missing.
Sandy and Shannon were each given a $10,000 bail after being charged in the first degree with endangering a child's welfare.
Their daughter was removed from their custody and sent to an Arkansas court.