Let us briefly explore 'Robert Dawson Accused Of Brutally Beating His Wife To Death On Fiji Honeymoon' Bradley Dawson, the Tennessee newlywed accused of killing his bride on their Fiji honeymoon, returned to court Tuesday for a bail hearing.
Robert Dawson Accused Of Brutally Beating His Wife To Death On Fiji Honeymoon
Lautoka High Court Judge Riyaz Hamza ordered him held with no bail. The judge also rejected Dawson's two bail sponsors, who are locals that live in Fiji, because they did not provide any details on how they know Dawson.
Dawson, 38, has pleaded not guilty to the alleged murder of Christe Chen Dawson, 39, who Fiji police say was found brutally beaten to death in her room at the exclusive Turtle Island Resort on July 9. He arrived handcuffed in court wearing blue shorts, flip-flops, and a patterned tropical shirt Tuesday, or early Wednesday local time.
Speaking in the I-Taukei language, Dawson answered shouted questions outside the courthouse, telling reporters "Good morning" and that he was doing well.
AMERICAN WOMAN KILLED ON FIJI HONEYMOON HAD 'HORRIFIC' INJURIES THAT WERE NO ACCIDENT: LAWYER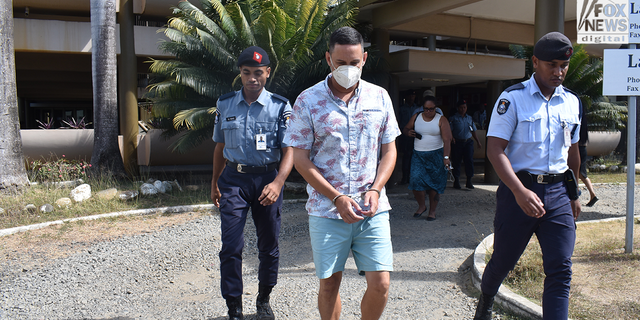 Police discovered him at the time of his arrest carrying more than $1,000 in cash, along with his passport, driver's license, and credit cards for both himself and his late wife.
The statements of Chen's family attorney, who had earlier stated that she died of severe traumatic head injuries and various traumatic injuries to her body, were corroborated in court by prosecutors, who claimed that Chen experienced a "brain bleed" on July 9.
The Court Trail Proceedings
Dawson has pleaded not guilty and his defense attorney Iqbal Khan is contesting unsigned statements Dawson made to police, known in Fiji as a "caution interview," in which he allegedly confessed to killing Chen. After the interview, he declined to sign the document and, through his attorney, has maintained that he is innocent.
Read More: Moment Arkansas Dad Amputates His Own Leg In Front Of 5-Year-Old Daughter Claiming To Be Jesus And Satan
Judge Riyaz Hamza was expected to rule on the bail application, and another hearing was already set for Sept. 26 as prosecutors and the defense wrangle over the unsigned caution interview.