Exploring the 'Suspect, Pittsburgh Driver Gerald J White, 37, Arrested For killing 2 Pedestrians After Pop-Up Car Rally In New Jersey Resort Town' Two people were killed Saturday night during a pop-up car rally in New Jersey beach town Wildwood, where thousands of people swarmed in, overwhelming police who were "grossly outmanned."
Suspect, Pittsburgh Driver Gerald J White, 37, Arrested For killing 2 Pedestrians After Pop-Up Car Rally In New Jersey Resort Town
Eventually, New Jersey State Police troopers and Cape May Sheriff's deputies joined Wildwood police officers, and many of them were patrolling the area Sunday morning, NJ.com reported.
Gerald J. White, 37, was arrested in connection with the fatal crash. White, from Pittsburgh, Pennsylvania, reported crashing into a Honda Civic, killing its passenger, and hitting two pedestrians, killing one.
The Civic passenger was identified as 34-year-old Timothy Ogden, and the pedestrian was identified as 18-year-old Lindsay Weakland.
White was charged with two counts of death by auto, two counts of assault by auto, one count of eluding, one count of leaving the scene of an accident, and one count of violation of laws to protect public safety, the city said.
READ MORE: Death Update: Debbie Collier's Daughter Boyfriend, Sends Chilling Note Threat Violence Against Debbie Collier & Family Revealed Before She's Stripped, Burned & Murdered
An employee at a liquor store at the scene of the crash said he saw a car going at least 80 mph and hitting another vehicle.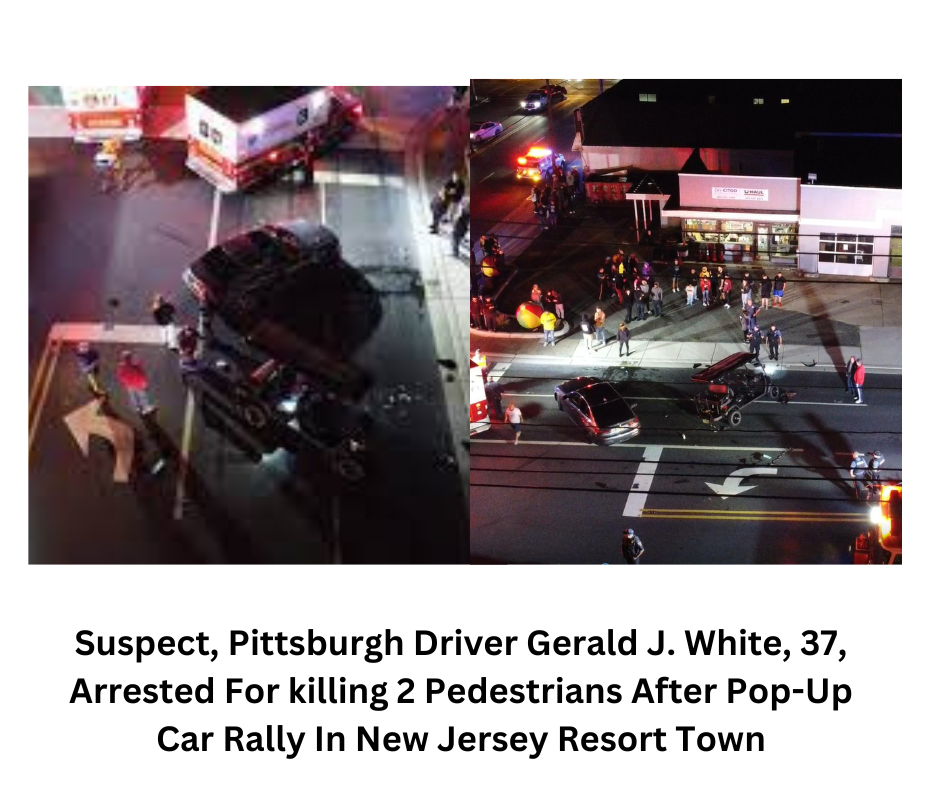 Video from the event showed vehicles cruising along Wildwood's main roads, Rio Grande Avenue and Atlantic Avenue, before dark, with crowds watching from the sidewalks. But as the sun set, large crowds began spilling into the streets, cheering wildly and videotaping the vehicles doing donuts and burnouts through intersections.
Wildwood city commissioners issued a statement saying police were "grossly outmanned" and that they had requested help from neighboring jurisdictions as well as the state police.
Mayor Pete Byron told NJ.com on Sunday that there were further injuries Saturday night when one of the car rally vehicles hit a golf cart.
For More, Click: Carlos Gomez Jr, A Former Marine, Shoots 3 Family Members, Barricades Himself Inside The House, And Sets It Ablaze In Oak Forest