Exploring 'Alberto Santacruz Accused Of Shooting 5 At Las Vegas Birthday Party Was Tackled By Partygoers' Birthday partygoers tackled and held down a suspected shooter until police arrived, according to an arrest report from Las Vegas Metropolitan Police.
Alberto Santacruz Accused Of Shooting 5 At Las Vegas Birthday Party Was Tackled By Partygoers
Alberto Santacruz faces five charges of attempted murder, five charges of battery, two charges of discharging a gun, and charges of a prohibited person owning a gun and drug possession in connection with the shooting in the early morning hours of Sept. 18.
Police said they were called to the home around 12:54 a.m. Sept. 18 to reports of a shooting. When officers arrived, there were five victims suffering from gunshot wounds.
Witnesses said they were at a birthday party in the backyard of the home. They said an argument started between a suspect and a witness. According to an arrest report, one of the victims got in between the witness and the suspect shot him once.
The victim's relative pursued the suspect as he fled toward the front yard, according to the report. According to reports, the gunman shot at the side gate once again and kept firing at the family that was pursuing him. According to the police, the family attempted to wrestle the suspect's gun away after the guy was tackled.
He reportedly kept firing while the family struggled to subdue him. According to the police, nine shots were fired, and four further people were shot.
The guy was taken into custody by police after the family managed to disarm him.
According to police, the subject first resisted being identified and was uncooperative. Police discovered a fake Mexican Consular automobile that the suspect was carrying. In the end, cops were able to identify the suspect as Santacruz.
Police claimed Santacruz is not a citizen of the United States and has previously been arrested. According to the arrest report, Santacruz was previously found guilty in Nevada of conspiring to commit a kidnapping in 2007 and possession of a dangerous drug in 2015.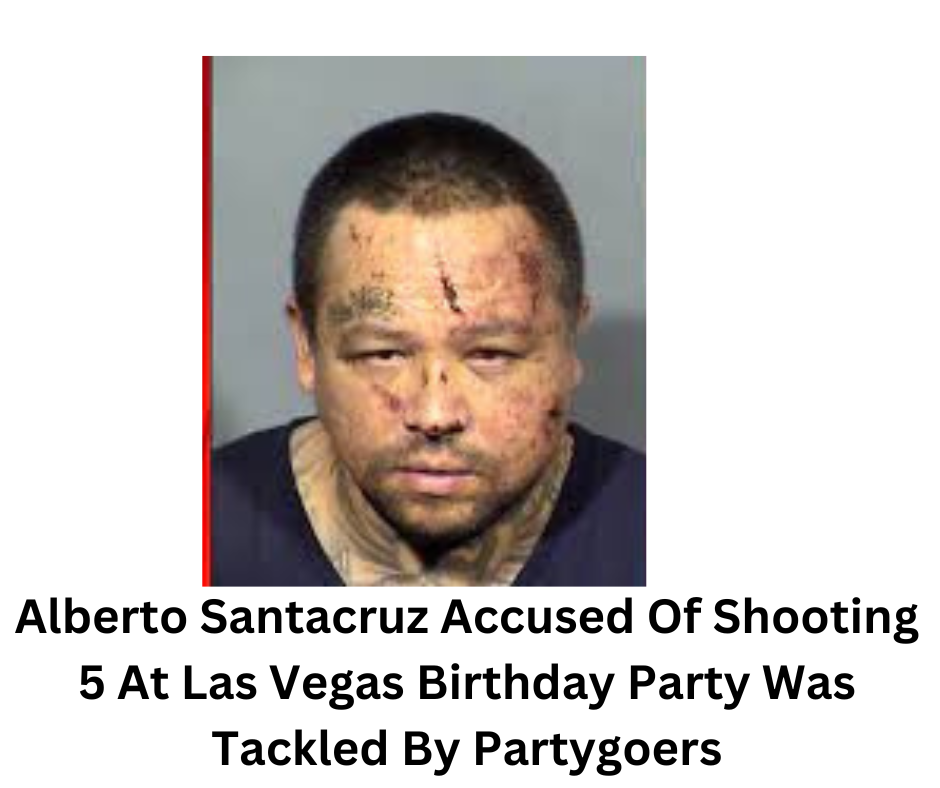 The University Medical Center received all five victims for treatment. With chest and back bullet wounds, two victims were seriously hurt. Santacruz was sent to UMC with minor wounds.
According to court documents, bail has not been granted for Santacruz. Thursday had been scheduled as his upcoming court date.
LVMPD gang unit continues to investigate the shooting.
READ MORE: Death Update: Daughter Of Murdered Debbie Collier, Amanda Bearden, 36, Has A History Of Arrests