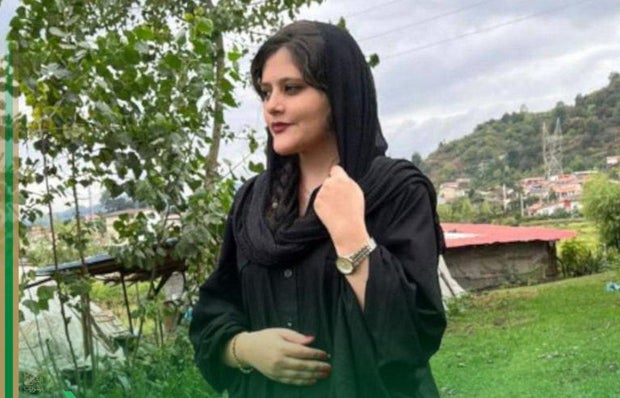 According to reports by local media, Mahsa Amini, 22, was detained earlier this week by the so-called "morality police" after officers apparently found fault with her headscarf or hijab.
Iranian President Orders Probe After 22-Year-Old Woman Reportedly Dies In Custody Of "Morality Police
Since the 1979 Islamic Revolution, women in Iran have been required to wear a headscarf, and morality police officers uphold the nation's strict clothing code.
Amini, who was detained on Tuesday, allegedly suffered a heart attack while there, according to the police, who claimed on Thursday that she was transferred to a hospital. Amini's uncle was mentioned by pro-reform news websites as asserting that she had no family history of heart illness.
Police reported that while Amini was being held in custody, there was no physical contact with or violence directed at the officers. Closed-circuit television appeared to show Amini inside a police station, along with other detainees, according to the police.
She gets out of a chair at one point, approaches another woman to start a conversation, grips her head in both hands, trips over a chair, and collapses. The next scene shows her being removed on a stretcher.
Investigation In Progress- Iran Court
According to Mizan. news, the official website of Iran's court, Tehran's chief prosecutor Ali Salehi directed a police team of forensic pathologists to investigate the case's medical elements.
Iranian morality police have been under fire recently for how they treat people, particularly young ladies, and footage posted on social media shows them shoving women into police cars.
Ayatollah Ali Khamenei, the supreme leader of Iran, has backed a kinder stance toward women who don't adhere to the established clothing code.
Hard-liners, however, have demanded severe penalties, including lashings, claiming that permitting women to reveal their hair causes moral degeneration and the breakdown of families. In recent years, the judiciary has pushed the public to report women who don't cover their hair.
The authorities have taken more stringent action since 2017 when scores of women openly removed their headscarves in a wave of demonstrations.
"Countless victims of the Islamic Republic's war on women"
Amini's case has drawn condemnation from Iranian celebrities, athletes, and other public figures.
Former pro-reform President Mohammad Khatami said the behavior of the morality police was a "disaster" while outspoken politician and former lawmaker Mahmoud Sadeghi called on Khamenei to speak publicly about Amini's case.
Popular former soccer player, Ali Karimi, tweeted that while children of high-ranking officials are leaving the country, "our children are dying."
Hossein Mahini, another former soccer player, said in a tweet, addressing the morality police: "We hate you."
Images posted on social media showed crowds gathering outside the hospital where she was being treated and police seeking to disperse the dozens who had gathered.
"The circumstances leading to the suspicious death in custody of 22-year-old young woman Mahsa Amini, which include allegations of torture and other ill-treatment in custody, must be criminally investigated," Amnesty International said.
"The so-called 'morality police in Tehran arbitrarily arrested her three days before her death while enforcing the country's abusive, degrading, and discriminatory forced veiling laws. All agents and officials responsible must face justice," it added.
On Twitter, prominent Iranian lawyer Saeed Dehghan described Amini's death as a "murder," saying she had suffered a blow to the head which had caused the base of her skull to fracture.
Several lawmakers said they would raise the case in parliament while the judiciary said it would form a special task force to investigate.
The New York-based Center for Human Rights in Iran described her death as a "preventable tragedy."
Activists are reporting that Mahsa Amini, 22, has died after being arrested by #Iran's "anti-vice" police for her alleged improper hijab.

The state's discriminatory forced-hijab law has long been used as a means to harass, denigrate, abuse, detain and harm women. #مهسا_امینی pic.twitter.com/OnqEyihfC7

— IranHumanRights.org (@ICHRI) September 16, 2022
Mahsa Amini is only one of the numerous women who have fallen victim to the Islamic Republic, according to the organization's executive director, Hadi Ghaemi. "She was detained under the pretext of the state's mandatory hijab law, and she later passed away. Her demise and decades of harassment, detention and other harm to women committed in the name of this inhumane, discriminatory statute are the government's fault."
Also Read: Update: Corey Benjamin Daughter Charged For Punching Fellow Competitor In Girls Basketball
Amini's passing occurs as a debate over the actions of Iran's morality police, officially known as the Gasht-e Ershad, is growing both inside and outside of the country (Guidance Patrol).
A video of a mother screaming for her daughter's release in front of a police van went popular on social media in July.
The veiled woman continued to cling to the moving van, only being thrown clear after it gathered speed.
Also in July, a young Iranian woman, Sepideh Rashno, disappeared after becoming involved in a dispute on a Tehran bus with another woman who accused her of removing her headscarf.
She was held by the Revolutionary Guards and appeared on television in what activists said was a forced confession before being released on bail in late August.
Activists accuse Iran of being in the throes of a major crackdown that is affecting all areas of society, including a new push against the Bahai religious minority, death sentences for gays, a surge in executions, and arrests of foreign nationals.
Raisi plans to travel to New York for the UN General Assembly next month where he is set to face intense scrutiny over Iran's human rights record.
Read More: The Ex-Deputy AG Of Nevada Arrested For teen Murder in 1972 After 50 years